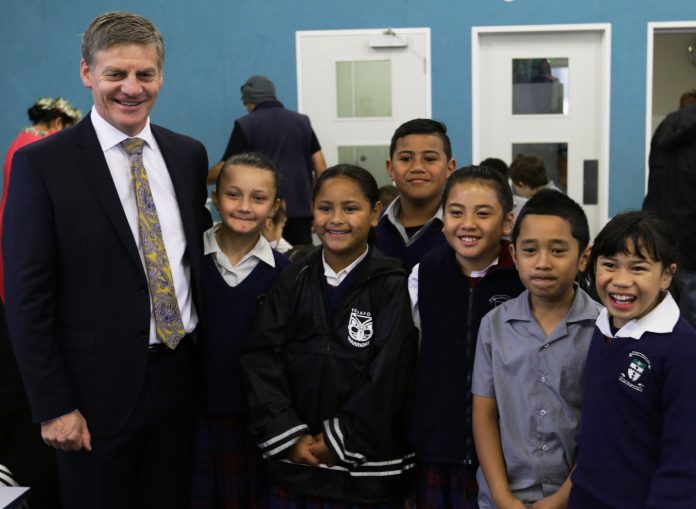 Making a tangible, positive difference to peoples' lives is the most important thing any government can do. Thanks to nine years of sound economic management which has put New Zealand back on track financially, we are in an excellent position to do just that. And we are taking advantage of that opportunity. A couple of weeks ago, I had breakfast with the children of Holy Cross School in Porirua to mark the eight millionth free breakfast served in schools across the country., Thanks to the Kick Start Breakfast programme, 28,000 students in more than 900 schools now start each day with a healthy breakfast at no cost to their schools. The programme is a partnership between government, Fonterra and Sanitarium, supported by volunteers who run the breakfast clubs. From the community to central government, it is great to see everybody doing their bit to give kids the best start to the day.
Later that day, I launched the new Ministry for Vulnerable Children, Oranga Tamariki with Social Development Minister Anne Tolley. This new ministry is another milestone on a journey this Government began six years ago to better understand the lives of our more vulnerable people. It will work with families and whānau to ensure children and young people have access to the care and support they need to make the most of their lives. It will do this by putting children and young people's safety and well being first, and ensuring they have a say in the decisions that affect them.
I really enjoyed meeting a number of young people at the launch who have been in state care at some point, and have had the opportunity to contribute to the overhaul. I'm pleased to report they seem really positive about this change. We have made a number of other changes to support New Zealanders and their families recently. On 1 April, we increased superannuation by 1.4 per cent, maintaining our commitment to keep superannuation at 66 per cent of the net average wage; we reduced ACC levies further; and we increased the minimum wage by another 50 cents an hour.
I'm proud of this National-led Government's track record of increasing the minimum wage every year since coming into office. We also increased benefit rates by 1.1 per cent. This comes on top of last year's increase to benefits for families with children by $25 a week, the first time in 43 years a government has lifted them.
Ever since I became Prime Minister, I've been clear we are committed to improving peoples' lives. This National-led Government will continue to work hard to make New Zealand an even better place to live, work and raise a family and these are some practical changes that will make the lives of New Zealanders better.